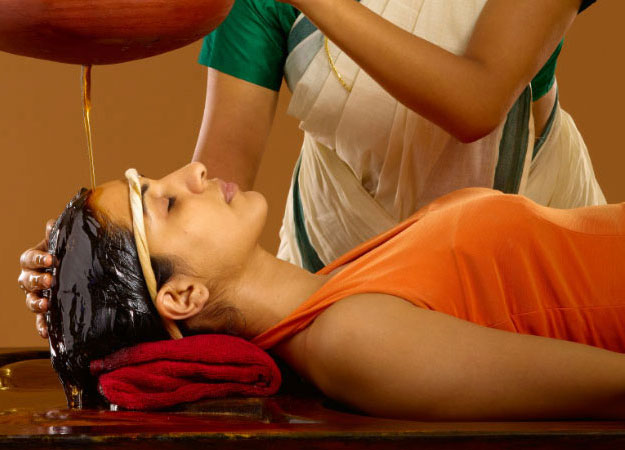 Traditional Keraleeya Abhyangam (Kerala Ayurvedic Synchronized Dody & Head Massage in A.C)
A synchronized massage by two therapists to keep your body fit. It has a quick refreshing effect, which lasts for more than two weeks. After a 45 minutes medicated oil massage, medicated steam is given to the patient in a specially designed container for 10 to 15 minutes, this is followed by hot water bath. A refreshing herbal drink follows.
Benefits:
It Nourishes the body.
Improves performances in sports activity.
Helps in overcoming fatigue.
Retards the ageing process.
Revitalizes the nervous system.
Relieves stress and strain
Increases mental concentration.
Executives Special Package designed for corporate executives living a hectic lifestyle and who are always stressed out. The routines of these men and women are constantly disturbed by factors, which are beyond their control. To make them fit in this strained life, we have designed a special package.
It includes Abyanga ,Swedanam , Shirodhara , Padabhyangam , Udvartanam , Basti / Kati Basti.
Designed specially for complete relaxation and rejuvenation of your body and mind.
MASSAGE (Rejuvenation Special)
HERBAL STEAM (Natural Detoxification)
SHIRODHARA (Stress Relieving Therapy)
FACIAL (To improve softness and glow of face)
NASYAM (To improve the immunity)
HERBAL DRINK (Refreshing natural drink)
Abhyang Dhara (Instant Relaxation Therapy)
MASSAGE (With Special Oil)
SHIRODHARA (Stress Relieving Therapy)
FACE MASSAGE (With Special Cream)
MEDICINAL STEAM (Detoxification)
HERBAL DRINK (Refreshing natural drink)
Adolescence is the correct time to develop total personality of any individual.
The treatment largely concentrated on body frame development, height, menstrual problems of girls, change of voice, muscle development, skin texture , concentration and confidence.
The treatment includes: Abayanga, Swedamam, Basti, nasyam, Kawal, Rasayana Chkitsa.
Traditional Keraleeya Abhyangam
Total Time 60 mins which includes Total Body & Head Massage with Ayurvedic Oils by two therapies Ayurvedic Medicinal Steam followed by hot water bath and health drink.