Shiro – Abhyangam / Head Massage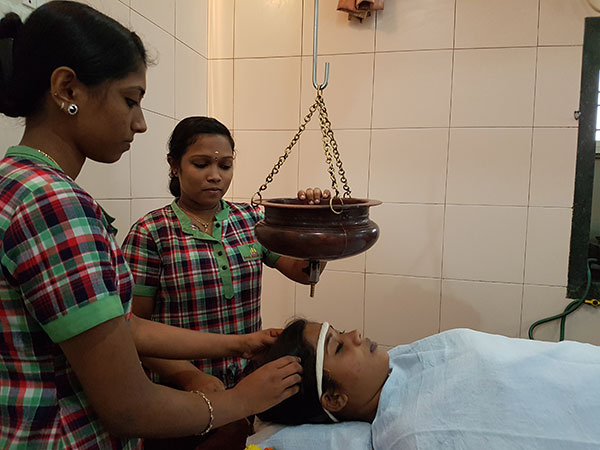 This head, neck and shoulder treatment begins with a reviving scalp massage that helps to improve circulation, prevent hair loss, dryness and breakage of hair. Specific Ayurvedic oils prevent hair loss, or graying of hair, headaches, sinusitis or neck pain. Pressure and lymph drainage techniques are applied to the neck and shoulders with relaxing strokes.
Pad – Abhyangam / Feet Massage
This Ayurvedic reflexology is an ancient massage, which focuses on Marma points of the feet and lower legs. Pad – Abhyangam promotes quality sleep, increases circulation and energy flow to boost immunity, rejuvenating your entire body. This therapy incorporates the use of a warm energy-balancing 'Kasa bowl' resulting in a more effective therapy as the metal interacts with the energy force of the body.
This rewarding massage helps rejuvenate tired feet, thereby refreshing the entire body. This treatment improves blood circulation in the legs and is best for relieving post flight stress, tension and lethargy in the lower leg.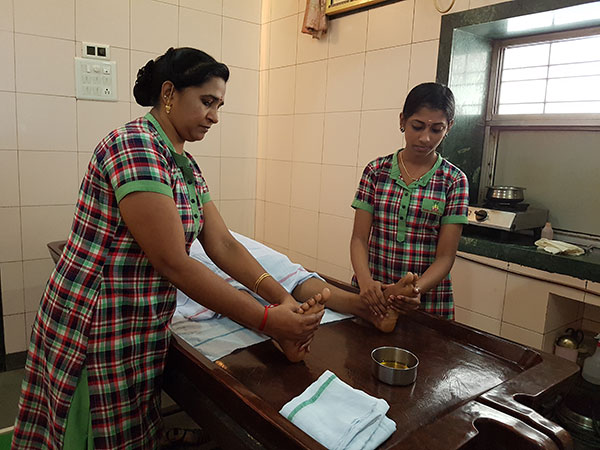 Nadi - Abhyangam/ Spinal massage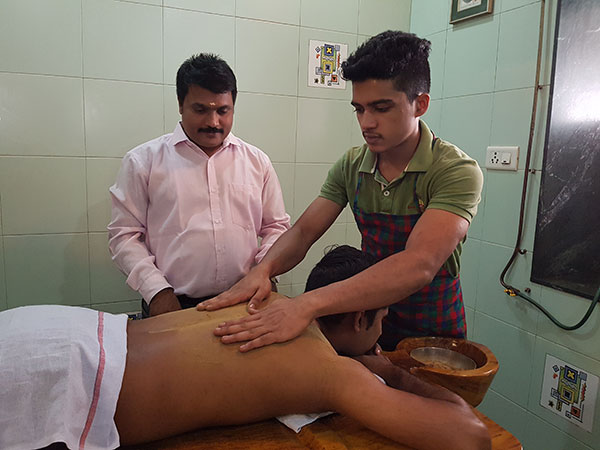 This intensive massage concentrates all the way from top to bottom of your spinal column. Warm herbal oils provide care & comfort to the para spinal muscles that help us bend or sit straight, Using a variety of muscle release techniques, the therapist will work within your pleasure/pain threshold to release and relax chronic tension over the back, shoulders and neck, the most tired & overworked parts of your body.
Abhyangam Ayurveda / Detox Massage
This is a classical Ayurvedic massage using a combination of soothing and symmetrical long strokes to regulate the circulatory and nervous systems of the body. The warm herbal oil chosen according to your mind-body type balances all your Doshas / energies. A steam bath or sponging is done after this massage to detoxify the skin.
Traditionally, this most popular detoxifying treatment is delivered by two therapists working in synchronization to rejuvenate the body and mind using herbal medicated oils. Abhyangam is exceptionally helpful in improving skin & body complexion and naturally firms and tones fatigued skin.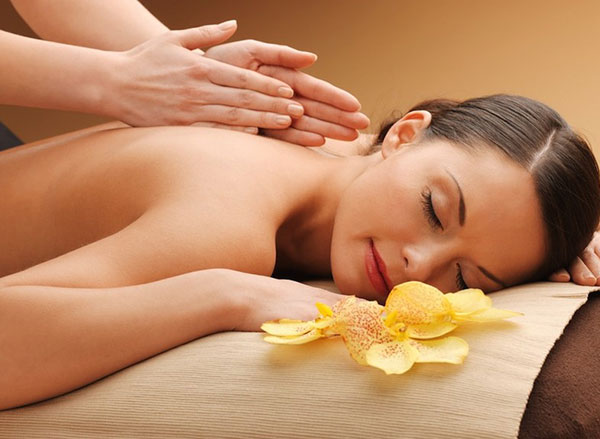 Shirodhara / Third-eye Oil stream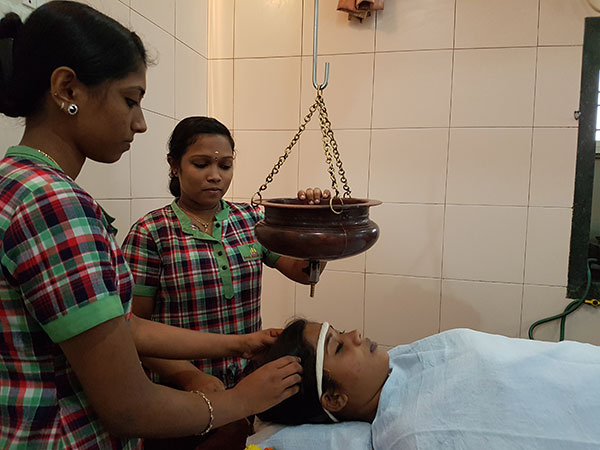 Shirodhara is the most soothing ancient Indian Ayurvedic therapy where warm medicated oils are used from a specially designed vessel called Shirodhara Patra. A gentle stream of warm oil is directed onto the Third eye on the forehead, which initiates healing, calms the chattering mind, restores balanced health and imparts meditation effects to the brain.
It not only revitalizes the mind and body, but also is intensely rejuvenating and anti-aging. Shirodhara improves memory, increases concentration power of the mind, improves vision, imparts internal coolness to the eyes, addresses other neurological disorders, and normalizes sleep patterns and blood pressure.
Udvartana / Powder massage
Udvartana is a gentle & fine herbal powder massage that enhances skin complexion by removing dead cells & promoting healthy cell growth. This therapy is exceptionally beneficial for weight loss, cellulite or skin darkening. This massage is usually done in a synchronized manner by either 2 therapists for 60 mins.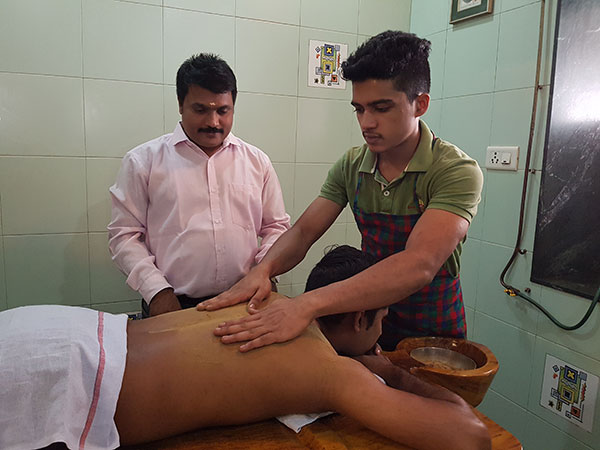 Kati Basti / Back Oil Pool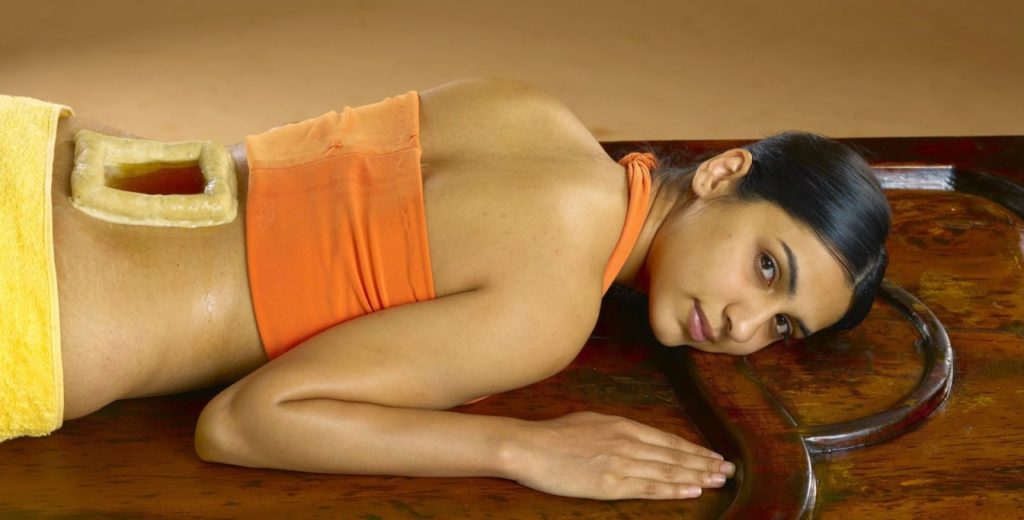 This therapy targets the sore spots, achy ligaments and tensed muscles of the back. Here, a lumbo-sacral fomentation is done with specific Ayurvedic medicinal oils followed by a point-therapeutic massage. A pool of warm herbal oil helps relax tissues of the back & reduce tension in para spinal sprain or strain.
Utsadana / Ayurvedic Body scrub
This therapy is specifically designed for those who like cream massages. A therapeutic, relaxing, aromatic blend of medicinal powders mixed with cream are used for the entire duration of detoxifying massage. This help strengthen skin tone, provide anti-aging effect & moisturize the skin to prevent daily wear & tear.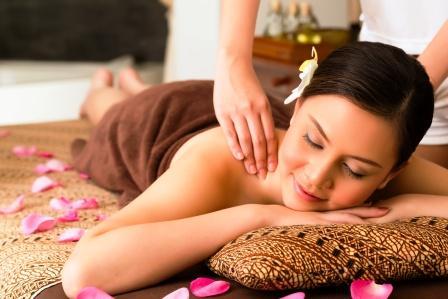 Powder Poultice / Choorna Sweda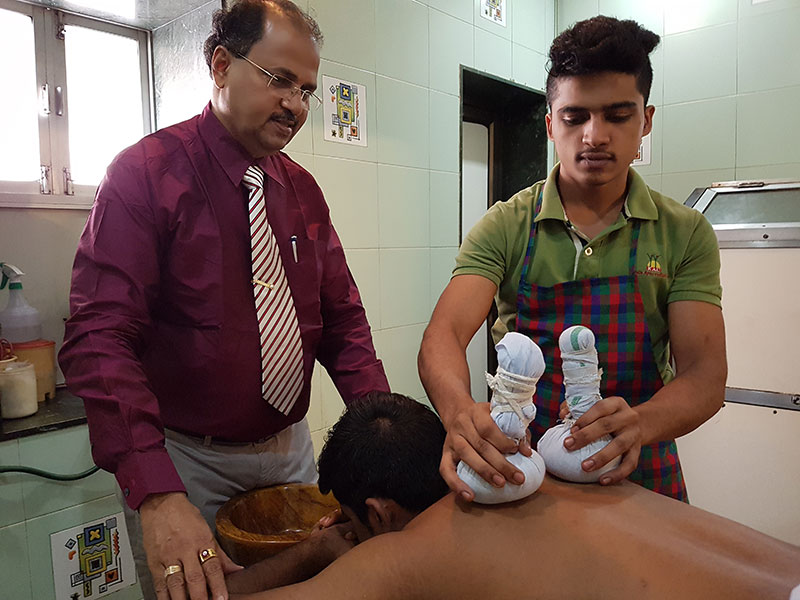 Following a full body massage with mind-body type specific oils, therapeutic sweating is induced by the application of warmed herbal poultices. ChoornaSwedais commonly known as "powder poultice massage". It speeds up the elimination of toxins through sweat, channelizes lymphatic circulation, and relieves muscular pain and joint stiffness, rheumatism, arthritis and sports injuries.
Powder Poultice massage is done using powders, which are anti-inflammatory & pain relieving in nature.
Rice Poultice / Navra Sweda
This therapeutic massage begins with an application of warm oil specific to your mind-body type. A warm rice poultice dipped in healing herbal decoction acts as a natural fomentation to relax & strengthen body tissues while stimulating circulation and energy flow. The effect of heat and herbs helps to reduce aches and pains, increase joint mobility and strengthening, help heal minor aches & cramps, condition the skin, leaving you refreshed and relaxed. The well-appreciated positive effects of this therapy include a phenomenal skin glow & muscle toning.